Cheimonophyllum candidissimum (Berk. & M.A. Curtis) Singer, Sydowia 9: 417 (1955)

Basionimo
:
Agaricus candidissimus
Berk. & M.A. Curtis,
Ann. Mag. nat. Hist
., Ser. 3 4: 288 (1859)
Sinonimi
:
Cheimonophyllum candidissimum
(Berk. & M.A. Curtis) Singer,
Sydowia
9: 417 (1955).
Dendrosarcus candidissimus
(Berk. & M.A. Curtis) Kuntze,
Revis. gen. pl
. (Leipzig) 3: 463 (1898).
Geopetalum candidissimum
(Berk. & M.A. Curtis) Murrill, N.
Amer. Fl
. (New York) 9(5): 298 (1916).
Nothopanus candidissimus
(Berk. & M.A. Curtis) KŘhner,
Bull. mens. Soc. linn. Lyon
, Num. SpÚc. 49: 895 (1980).
Pleurotellus candidissimus
(Berk. & M.A. Curtis) Konrad & Maubl.,
Flore d'Algerie, Cryptogamie
6: 360 (1937).
Pleurotus candidissimus
(Berk. & M.A. Curtis) Sacc.,
Syll. fung
. (Abellini) 5: 368 (1887)
Caratteri macroscopiciPileo
0,5-2,5 mm di diametro, da conchiforme a flabelliforme, orlo intero, lobato, involuto. Cuticola feltrata, non igrofana, di colore bianco candido.
Lamelle
lardose, mediamente fitte, inframezzate da lamellule, filo lamellare fimbriato. Da giovani di colore bianco, appena crema negli esemplati maturi.
Stipite
assente
Carne
sottile ma tenace, di colore bianco. Odore indistinto, sapore mite.
Sporata
non ottenuta.
Caratteri microscopiciSpore
5,5-6,5 x 5,4-6,4 Ám, in media 6,09 x 5,9 Ám, Q. = 0,98-1,09; Qm, = 1,04; Vol.m.= 112 Ám│; iodio negative, globose o subglobose, liscie, con al centro una grossa guttula oleosa di colore verdastro, apiculo evidente.
Basidi
34,5-41,6 x 6,8-8,5 Ám, clavati, in prevalenza tetrasporici ma con una buona percentuale di bisporici.
Pleurocistidi
non osservati.
Cheilocistidi
34-70 x 3,5-8 Ám; fondamentalmente filiformi e con apice appuntito, alle volte bifidi.
Pileipellis
con tendenza a tricoderma, formato da ife caoticamente intrecciate, sovente bifide, con ě 2-5 Ám, a parete relativamente spessa, gelificazione e incrostazioni assenti, ialine.
Giunti a fibbia
assenti in tutti i tessuti osservati.

Dati relativi alla raccolta ed Habitat
: N. scheda: 3972. Data di ritrovamento: 28/09/2008. LocalitÓ: Colle Pagliaro. Comune: Pietracamela (TE). Coordinate geografiche: 42░31'16.84"N 13░32'43.83"E. Altezza slm: 1150. Habitat: su ceppaia degradata "probabile pioppo".. Determinatore: Zugna M.. Legit: de Ruvo B.
Osservazioni
: molto simile per aspetto alle specie del genere
Crepidotus
se ne differenzia per la sporata in massa di colore bianco.
Bibliografia consultata
:
Index Fungorum
: <
http://www.indexfung...ames/Names.asp>
Watling, R. & N.M. Gregory - 1989
: British Fungus Flora. Agarics and Boleti 6.
Crepidotaceae, Pleurotaceae and other pleurotoid agarics
. Edinburgh: Royal Botanic Garden. 157 pp.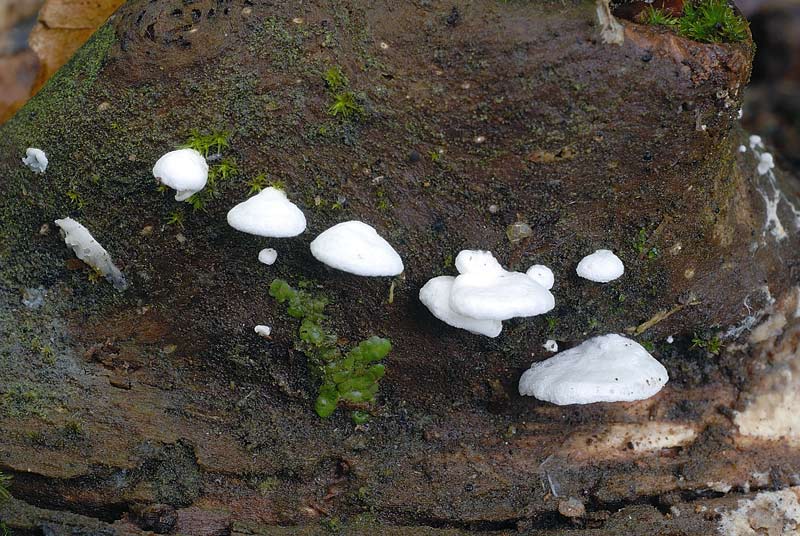 foto Bruno de Ruvo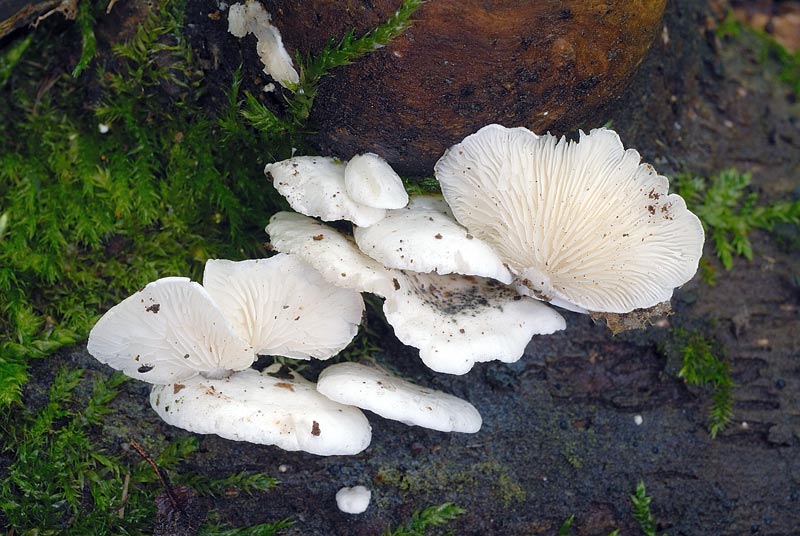 foto Bruno de Ruvo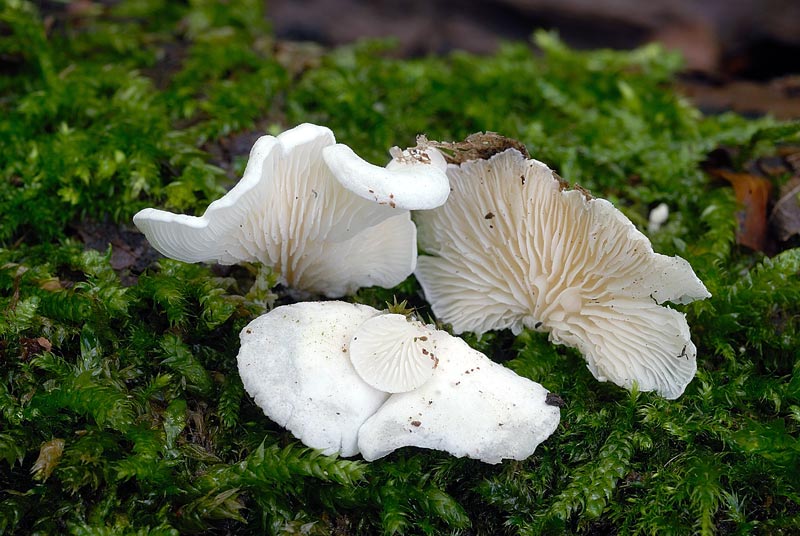 foto Bruno de Ruvo